Greetings DVIA Families!
A Few Words From Our Principal
It is hard to believe we're in June and the next two days will be our last! I have enjoyed every day spent with your child(ren) and family. Thank you for being part of my family. A final newsletter will go out next week to returning and new families with some information about next year.
Congratulations 8th graders and their families! We look forward to celebrating with you this week! A shout out to Kaitlin who has spent countless hours organizing this amazing event!
So many of you reached out with amazingly thoughtful and positive responses about state testing. I am extremely relieved to report that although barely, we managed to reach the 95% participation requirement and have evaded program improvement for next year. It was an extremely close call, however. Additionally, I want our community to know that Kaitlin and I spent an extra 10-15 hours working on this issue rather than tackling other things that would benefit our program, so even "getting close" has an impact! Please help us continue to make our program flexible and focused on student learning through projects so that we don't have to focus our time and resources on technicalities and state mandates. And again, thank you to so many of you for your lovely check ins, expressions of concern and your desire to help!
On Wednesday, 20 parents joined me and Kaitlin for some social time, lunch, and an awesome discussion of next year's FAN events. I will announce some dates soon but as a preview, we already have a Film Festival, Science Fair, Cardboard Challenge, Talent Show, Winter Jubilee and End of Year Social/Cultural Fair on next year's calendar with families ready to help coordinate the events. Awesome!
Quick clarification about next year: All DVIA teachers will remain in their current classes/cores next year. My blurb last week addressing cores 2-3 in the 2-day program caused confusion for a few of you. Sorry about that!
I want to say a heartfelt thank you and goodbye to Gissell Quincy, who has been DVIA's Speech and Language Pathologist ("speech teacher") for the last 4 years. Gissell has served hundreds of kiddos at Da Vinci Schools and has won a very special place in all our hearts. Gissell, thank you for your collaboration, your kindness, your dedication to what's right for kids, for pushing us to do more and understanding our needs! We will miss you! (A new speech teacher will be hired with more information coming to families being served when that occurs).
I want to take a moment to acknowledge the help of one of our FANtastic parents, Tracy Conyers.
You may not know this but every week for three years, Tracy has gathered all of the blurbs you've read in this newsletter and crafted them into the succinct and engaging read you see before you. She helps me re-imagine the purpose of a newsletter and the needs of our audience. She re-words blurbs that are unclear or too verbose. She adds graphics and links. And she does so every week. She identified a need for the newsletter to change--to become more frequent, better organized and more engaging--and then dedicated the time (WEEKLY no less!) to make it happen. Thank you Tracy for all your support! Truly, much
appreciated
for the hundreds of hours you've spent! And to move her vision forward, I am excited and honored to announce that Eileen Johnson will be tackling this task next year (if I didn't just scare her off!). Thank you both for taking on a service that directly impacts every DVIA family!
Enjoy this final week and we look forward to seeing so many of your during summer school and summer camp (there are still a few remaining camp spots!).
From Our Dean of Students
Hello Families!
I had such an incredible experience at our FAN reflection meeting and luncheon last week! We were able to accomplish many tasks (including calendaring events for next year, woohoo!) and connecting with each other over quality conversations and yummy food. :) If you missed this meeting and would like to join in the fun, we will be having additional FAN meetings in the Fall and throughout the year!
Also, I had a great time at the screening of "Hardcore Humanism!" on Friday night! A big congratulations to the T/F Core 4/5 Humanities students for a job well done, and a big appreciation to Dan for supporting our kiddos with this project and awesome culminating event! Also, a huge thank you to DVIA parent, Nathan Hurlburt, for dedicating his time and expertise during the project as well as donating a space for the screening of the film! Well done, everyone!
As we head into the last two days of school (can you believe it?!) I want to celebrate an incredibly successful year with all of you. I can't wait to continue this celebration in person on Monday and Tuesday!
Have a great week!
What you need to know this week:
Work Journal #5 Due
Tues, 6/7 | 4:15 pm
Last Work Journal for the school year! Whoo hoo! For Mon/Thurs families, please be reminded that Tuesday, June 7th is a homeschool day.
Lost & Found - Last Call!!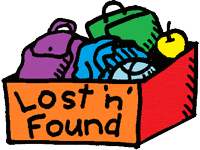 All unclaimed items will be donated after school on Tuesday!
Please check the lost & found area just inside the campus entrance to the north of the office entrance (through the chalkboard door).

End Of Year Social & Multi-Cultural Fair
Mon, 6/6 | 5-7 pm
Families are invited to our 3rd Annual Cultural Fair on June 6th! Please bring a dish representing your family's heritage and enjoy delicious dishes from other parts of the globe! Students Flora White and Sawyer Stein have been handing out surveys to assist students in preparing for the Fair and telling how they'd like to be involved. Hard copies of the survey are in the office, and an electronic copy is available at
this link
.
Last Day Of School Photos
Mon, 6/6 & Tues, 6/7 | 8:30-9:10 am
If you can remember as far back as the first day of school (it seems like so long ago!), you might recall that our photographer, Stacee Lianna, was snapping photos of our kiddos holding an adorable "first day of school" sign, made by parent Brooke Lykins! Well, Brooke made sure that we could use the sign over and over again, and the is now ready for "Last day of school" photos! If you want to participate, Stacee will be on campus on the last day of school to snap these adorable photos once again. Please make sure to allow plenty of time for photo ops and for your student to make it to class before 9:15.
8th Grade Graduation
Wed, 6/8 | 10 am | Hawthorne Memorial Center
It's time to graduate our 8th graders! Please join us Wednesday morning at the Hawthorne Memorial Center for the festivities!
Help Us Win A Grant!!
Please help our algebra teacher, Helen Chan, win a $2,500 grant to purchase graphing calculators and calculator-based rangers for her classroom! Those of you who know Helen know how dedicated she is to her students and how passionate she feels about teaching mathematics.
Use this link
to vote for Helen's grant proposal. You have to enter your email and click the link when a confirmation email is sent in order for your vote to count!
You can vote every day in June! Thank you in advance for your support!
Wiseburn Concert On The Green
Wed, 6/8 | 4-7:30 pm (music starts @ 6pm)
Bring your low chairs and blankets for an evening of music. There will be several food trucks on site including Me So Hungry Truck, Ragin' Cajun Truck, Bool BBQ, Belly Bombz Truck, Rollin Lobster Truck and Baby's Bad Ass Burgers.
This is a FREE event and is open to the public. Please join us for great music and great food on the green! Click on the flyer for details.
Something Exciting For Next Year!
DVIA Film Fesival
FAN will be hosting a film festival featuring life affirming, thought-provoking art that our families might not otherwise have a chance to experience. Our first event will be held on September 10, coupled with our back-to-school social, and will feature short films and deep conversations meant to inspire students towards creating their own short films, which will be screened on November 5.
If you are interested in helping to select films to be shown, in leading a conversation and moderating one of the screening rooms, or just want to be part of the conversation happening this Summer around this topic, email
Jennifer Racusin
and she will add you to the email list that has been created for this event.
Have a great week!